So the weeks and the months are just flying past us now. The Scrappery has just released our THIRD kit and we are super excited with the direction our cute little kit club is going. We have some exciting news to announce over the next couple of days so be sure to stay tuned so that you don't miss out on all the amazing kit releases, videos and announcements.
I thought today I would post a little about the recent Cyber Crop we had for August. Once again we had three amazing challenges and the participants have grown in numbers. It was amazing to see a whole new group of scrappers work towards earning points to receive their free kits.
Please check out the gallery of all entries, they are all featured in our
PINTEREST GALLERY
.
So the first challenge we had in the Cyber Crop was a mood board challenge. The mood board was an arrangement of bold colour and shape, inspiring quotes and techniques. Here is the mood board I created and the challengers had to use to inspire their layouts.
The winner for the Mood Board challenge was the always beautiful
Peg Hewitt
. She is a long time friend of mine and I just absolutely love her style and layouts. I love how she had used the darker colours in this board but her photos really lend themselves to the yellow colours in the board as well. She also used the quote on the woodgrain panel. Many decided to use this quote and I love it! I may even consider making a PL card with the quote. Time will tell. For now enjoy Peg's fabulous layout and don't forget to check out her blog and the other layouts in the pinterest gallery.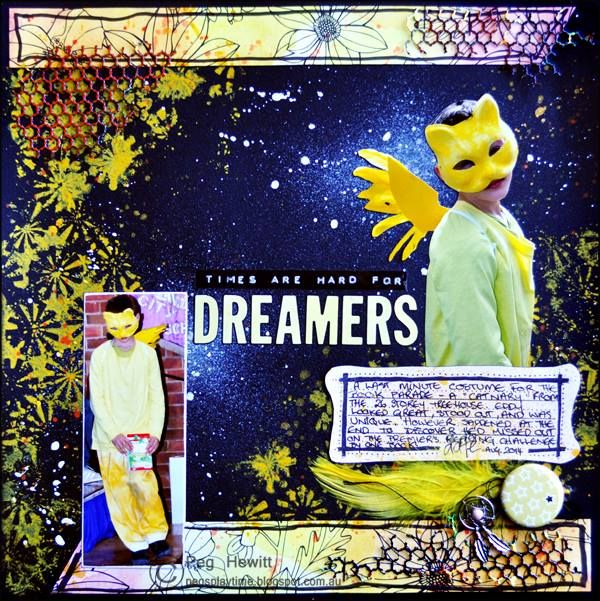 TIMES ARE HARD FOR DREAMERS
Our next cybercrop challenge was our ever popular sketch challenge. I love these challenges and it seems a lot of you do too. Here is the sketch that we all had to work with this month.
I love the collection of doilies and arrows and the layers as well. Circles are always a challenge for me so I tried so hard to make my layout fit exactly with the sketch. Enough about my layout though (you will see that later in another blog and process video). The winner of the sketch challenge was the beautiful Karen Jarman.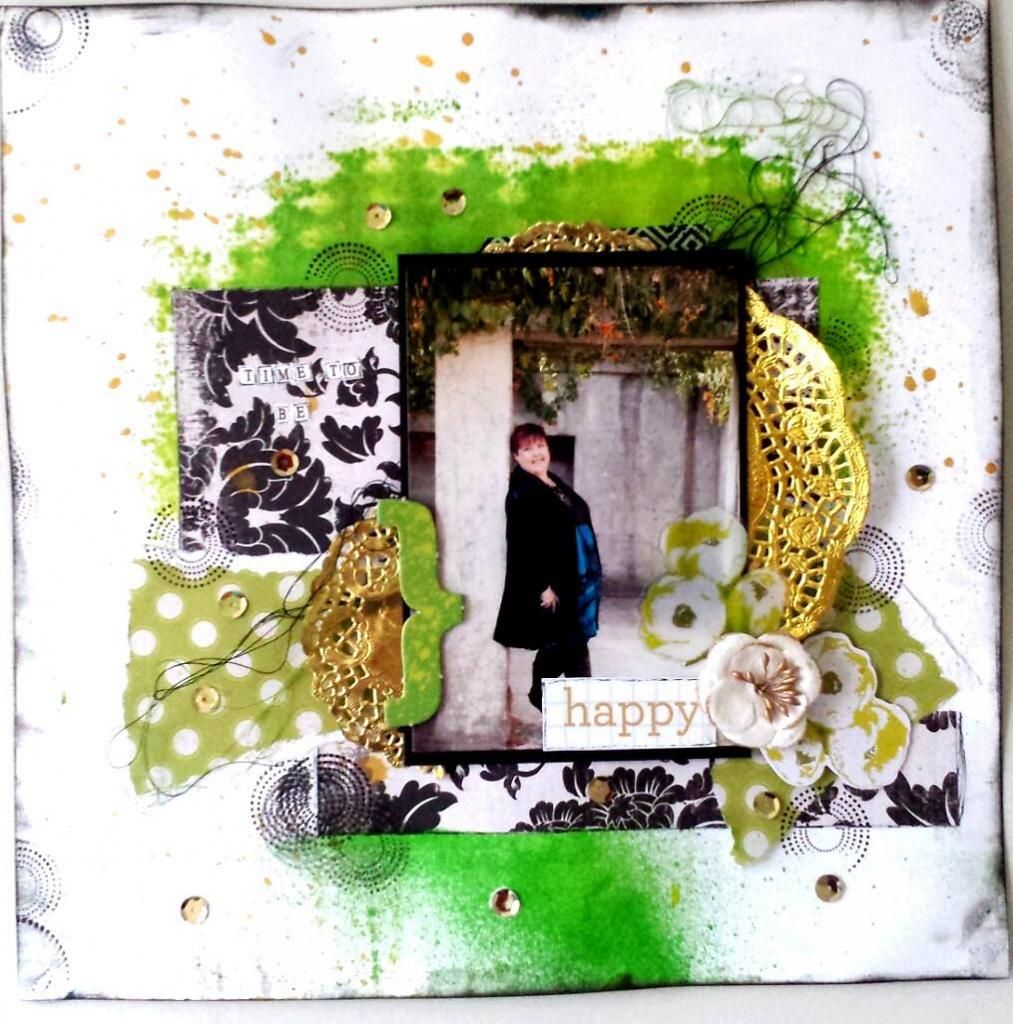 TIME TO BE HAPPY
Karen Jarman
Now I am the first to admit, I am not a fan of green and gold but this layout just does it for me!! I love this layout and its green paint and black stamping and distressing. The gold just lifts everything off the page. All of this just works with the photo effortlessly. Great job Karen and thank you for entering.
The final challenge we had this month was a little different. To celebrate the peek of our new BPK (embellishment kit) Elsa, challengers had to Use the four letters from the name Elsa and use those letters for first letter of scrapbook products to use on your layouts. I had seen these challenges before but never really participated. Apparently you guys loved this challenge as we had so many entries. It was so hard to choose a winner but eventually we chose the beautiful Rachel Dutko.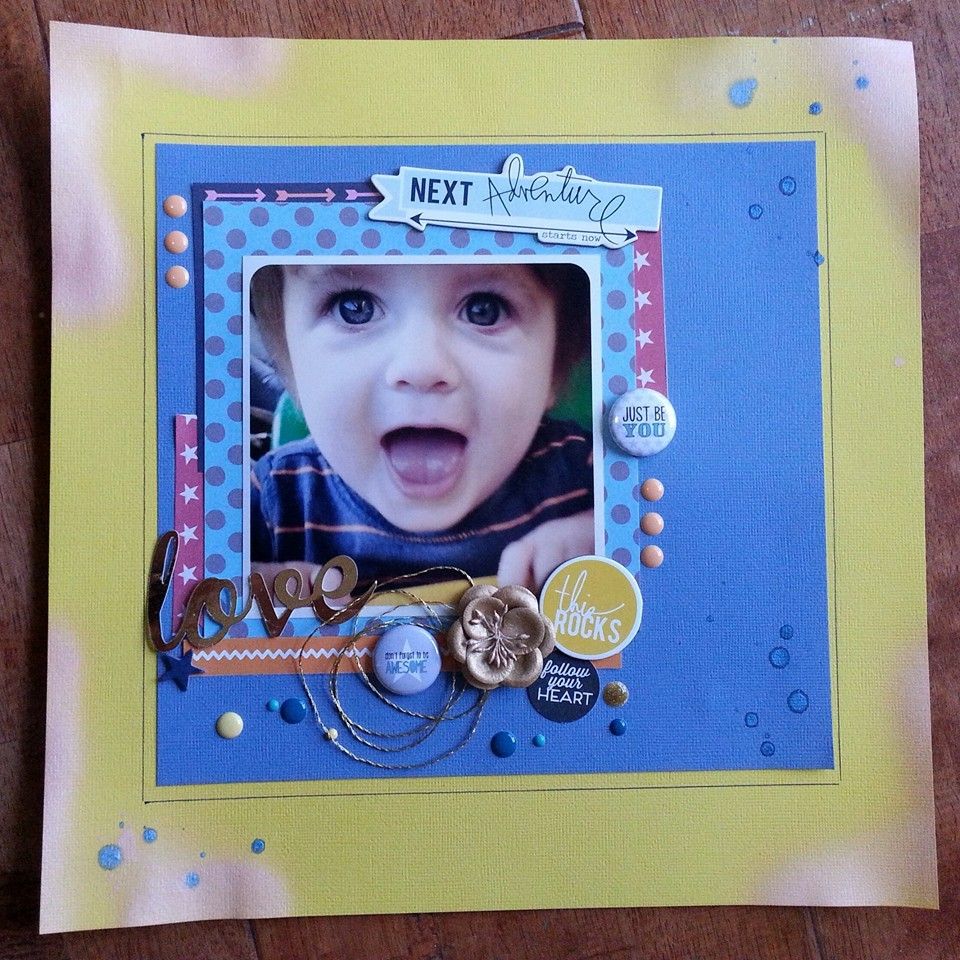 LOVE
Rachel Dutko
Really loving this page. Rachel used E - enamel dots, L - "love", S - stars and spray inks and A - arrows. I just love how she has clustered embellishments and given the edges that little bit of colour. Looks distressed, like aging painted wood and I love it!! Congrats Rachel.
So at this stage you are all probably wondering what points you are on to earn your kits. Here is the updated table for August. We will start incorporating more incentives to help you earn your points soon so stay tuned for that.
| | | | |
| --- | --- | --- | --- |
| Name | Total | July CC | Aug CC |
| | | | |
| Kerry O'Meara | 16 | 13 | 3 |
| Alyce Blyth | 15 | 13 | 2 |
| Lydia Gibson | 5 | 3 | 2 |
| Melissa Smith | 2 | 2 | 0 |
| Kristie-Anne Bridges | 1 | 1 | 0 |
| Charmaine Kosch | 11 | 11 | 0 |
| Carmel McKee | 2 | 1 | 1 |
| Peg Hewitt | 13 | | 13 |
| Rachel Dutko | 13 | | 13 |
| Connie Souter | 3 | | 3 |
| Melissa Lea Meyer | 3 | | 3 |
| Deb Egan | 1 | | 1 |
| Paula Fitzpatrick | 1 | | 1 |
| Janmaree Peace | 1 | | 1 |
| Karen Jarman | 11 | | 11 |
It is not too late to join in on our fabulous cybercrops, held during our PEEK PARTIES, around the 15th of every month. Just be sure to check out
our facebook page
and you can definitely join in the festivities. You don't have to be a subscriber to participate!